Lily is featured in a new photoshoot for The Telegraph. You can read the full interview below!
GALLERY LINKS
Studio Photoshoots > Outtakes & Sessions > 2019 >
Session 005
THE TELEGRAPH – She's known for playing warm, fizzy characters, from Cinderella to Donna in Mamma Mia!, but are we about to see a different, deeper Lily James?

Lily James and I are on our knees in her dressing room in the basement of the Noël Coward Theatre, packing away her belongings. It is her last day playing duplicitous, ambitious Eve Harrington (opposite Gillian Anderson in the Bette Davis role as Margo Channing) in the celebrated, sell-out 14-week run of All About Eve directed by Ivo Van Hove. James has two shows remaining – a matinee and an evening performance – followed by a celebratory dinner at J Sheekey.

'And tomorrow I'm meant to be flying to Croatia to spend a week on a boat, sharing a cabin with [friend and fellow actor] Freddie Fox,' she explains as we stuff a holdall with teabags, biscuits, sunglasses and a framed picture of her actor grandmother, Helen Horton, who was the voice of 'Mother', the computer in Alien. 'She was so glamorous, like a woman from a 1950s movie, so I had her with me for the run,' says James. She can't decide whether or not to go to Croatia. She doesn't want to let her friends down, but life has been hectic and she yearns for a break.

After the trip she will go straight into two weeks of rehearsals and then filming for Rebecca. She will play Daphne du Maurier's enigmatic ingénue, the second Mrs de Winter, opposite Armie Hammer, in the film by British director Ben Wheatley, who also made Kill List and High-Rise. And in a couple of weeks there will be the premiere of her new film, Yesterday, a modern-day fable about fame written by Richard Curtis and directed by Danny Boyle.

The film depicts a parallel world in which the music of the Beatles has somehow been erased from the collective memory, except for one down-on-his-luck musician, Jack Malik, played by newcomer Himesh Patel, whose unique knowledge of the Beatles back catalogue enables him to become a singer-songwriter sensation, leapfrogging a bemused Ed Sheeran – playing himself for laughs – and leaving Suffolk for Los Angeles.
On June 13, Lily was on "The Graham Norton Show" to promote 'Yesterday' with her co-star Himesh Patel. High quality pictures from have been added to the gallery!
On March 4, Lily attended the 2019 Into Film Awards in London. High quality pictures from the event have been added the gallery.
Lily graces the cover of Madame Figaro China for this month issue and the photoshoot looks amazing! We've updated the gallery with a few high quality outtakes, enjoy!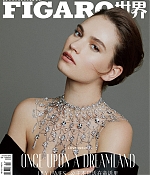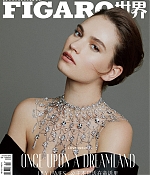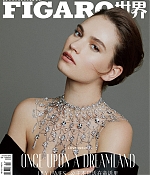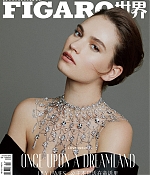 VARIETY – Lily James and Armie Hammer are set to star in Netflix and Working Title's "Rebecca," directed by Ben Wheatley.

Jane Goldman is writing the screenplay, adapted from Daphne du Maurier's classic Gothic novel of the same name. The story follows a newly married young woman who, upon arriving at her husband's imposing family estate on a bleak English coast, finds herself battling the shadow of his deceased first wife, the mysterious Rebecca, whose legacy continues to haunt the house.

Working Title's Eric Fellner and Tim Bevan will produce along with Nira Park. The film is expected to go into production in the spring.

James most recently starred in "Mamma Mia! Here We Go Again" and can next be seen in an untitled Danny Boyle pic. Her previous credits include "Baby Driver" alongside Ansel Elgort, "Darkest Hour," and "Cinderella."

Hammer will next appear in Mimi Leder's "On the Basis of Sex," Anthony Maras' "Hotel Mumbai," and Babak Anvari's untitled movie. His other credits include the critically acclaimed "Call Me by Your Name," "Sorry to Bother You," and Wheatley's action-comedy "Free Fire."

James is represented by UTA and Tavistock Wood Management. Hammer is repped by WME and Sloane, Offer, Weber & Dern. Wheatley and Goldman are repped by WME and Independent Talent Group. Wheatley is also repped by Bloom Hergott.
Yesterday (October 17), Lily attended the press night after party for "Company" at The Prince of Wales Theatre in London.