By Lora on November 10, 2016
BURO – irected by Asif Kapadia and reimagining key events that shaped the company's history and values, The Tale of Thomas Burberry captures the brand's 160-year history and the story of its founder in just three minutes. Starring the likes of Domhnall Gleeson as founder Thomas Burberry, seasoned actress Sienna Miller as his fictional first love, Dominic West as Sir Ernest Shackleton (who wore Burberry gabardine for his three Antarctic expeditions in reality), the fashion film brought to life historic moments — including, Thomas's invention of the weatherproof gabardine, dressing the military, and outfitting polar explorers and pilots.

But, it's really actress Lily James that we have our eyes on. She who plays the maverick Betty Dawson, a character inspired by the real life achievements of Betty Kirby-Green, the pilot who broke the world record for a return flight from England to Cape Town in 1937 — in an airplane named 'The Burberry', no less. I met James at the Claridge's Hotel in Mayfair London just before her appearance at the launch party on Regent Street, and the English beauty is every bit the gorgeous girl you see in that steamy My Burberry ad campaign. She's perched across me with the very same red lipstick she wore in the film, a Military Red from the Burberry Beauty lipstick collection. When told that I'm from Singapore, she exclaimed, "My mum lived there when she was growing up, because my granddad was in the RAF and she went wherever he did. He was stationed there for awhile. I really want to go to Singapore. I need to."

Enigmatic and earnest, the 27-year-old actress who appears in the drama series Downtown Abbey and in movies such as Cinderella, is fast becoming an English style star — just like every Burberry girl before her. In our exclusive conversation with James, she chats about working alongside Sienna Miller, her journey with Burberry, and of course, the plans she has for the Christmas holidays.

Describe the energy on set working with Dominic, Sienna and Domhnall and director Asif Kapadia.
Sienna is such an amazingly warm and friendly person and I really sort of look up to her. It was exciting to have the chance to work with her and watch her on set acting. She is so beautiful in this film. It was a whole bunch of actors that I really look up to and was so happy to be able to work with them. It was just a real privilege.

You were wearing pieces that were closely based on the Burberry Heritage Archive of pilot Betty Kirby-Green. What was it like to breathe new life into Burberry's iconic heritage pieces?
It was really wonderful as we approach the scenes as if they were a normal drama, so it felt like a costume that so happened to be Burberry. It was incredibly beautiful and well made. I felt lucky to wear for example, the trench she's in at the train station. It was custom made and was based on the trenches of the time. It was cool to put a twist on the classic Burberry trench.
By Lora on November 08, 2016
Full interview of Lily on "Lorraine". Enjoy!
By Lora on November 03, 2016
As the new face of Burberry, Lily was the one to switch on the Christmas lights at the HarrodsxBurberry Present: A Very British Fairy Tale. High quality pictures have been added to the gallery, make sure to check them out!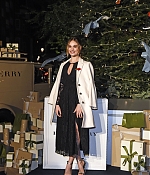 By Lora on November 02, 2016
By Lora on November 02, 2016
During an interview on Wednesday's Lorraine (ITV), Lily talked about a potential 'Downton Abbey' movie and she revealed she "hopes" to be involved in the film. Sadly, we don't have the full interview but here's a short video.
By Lora on November 02, 2016
REFINERY29 – Brit actress and face of My Burberry Black fragrance, Lily James, returns to her role at the fashion house, starring in a new three-minute short written by Matt Charman and directed by Asif Kapadia, the director of the acclaimed Amy documentary.

The epic trailer, entitled The Tale of Thomas Burberry reimagines key events that have shaped the brand's history and ethos. Lily stars as pilot Betty Dawson, a fictionalised character inspired by the real-life achievements of Betty Kirby-Green, who broke the world record in 1937 for a return flight from England to Cape Town in an aeroplane named 'The Burberry'. James is joined by Domhnall Gleeson, who stars as Burberry founder Thomas Burberry, while Sienna Miller plays Thomas's fictional first love. Dominic West stars as Sir Ernest Shackleton, the pioneering polar explorer who wore Burberry gabardine for three Antarctic expeditions.

Christopher Bailey, Burberry's chief creative and chief executive officer explains the significance of the short: "This Christmas, as we celebrate our 160th anniversary, we wanted to tell the story of Thomas Burberry – pioneer, inventor, innovator, and the man behind the iconic trench coat – in our own words… To do justice to this story, we turned to a team of truly great twenty-first century British talent: Asif Kapadia, a director whose work I admire enormously, and a cast of our brightest and our best actors."

Refinery29 sat down with Lily to discuss her latest Burberry gig, the development of her personal style and getting tipsy with her family at Christmas.

The short celebrates Burberry's 160-year history by exploring the life of founder Thomas Burberry. When did you first become interested in fashion and aware of Burberry as a brand?
I've always really loved Burberry. When I was a teenager, I remember the boys I always fancied would wear those shirts with the full check. When I signed up to do My Burberry Black fragrance, they told me all about the history and the heritage and it was such an impressive story. I think it's really wonderful that people are going to see that now after they see the Christmas short.

You're primarily an actress but how have you adapted to modelling roles and starring in campaigns or fashion shoots?
This was really great with Burberry because their brand is so much about embracing who you are and about being genuine and truthful to that. Christopher [Bailey] really supports British talent in all the different arts and so it felt really creative, really collaborative and like a really easy move into modelling. I really, really enjoyed it.
By Lora on November 02, 2016
To celebrate the release of Burberry's short film 'The Tale of Thomas Burberry' (you can watch it here), Lily attended last night's party in London alongside Domhnall Gleeson, Christopher Bailey and Amber Anderson.
By Lora on November 01, 2016
VOGUE – The short, which has been released this morning, is entitled The Tale of Thomas Burberry and comes in the form of a three-minute trailer, written by Academy Award-nominated Matt Charman and directed by Academy Award-winning Asif Kapadia. Gleeson plays protagonist Burberry, with Miller and James taking on the roles of mother of Burberry's children and pilot Betty Dawson respectively – both fictionalised characters. West plays Polar explorer and patron of Burberry, Ernest Shackleton, whose expedition to the Antarctic in 1914 forms the central plotline.

"This Christmas, as we celebrate our 160th anniversary we wanted to tell the story of Thomas Burberry – pioneer, inventor, innovator, and the man behind the iconic trench coat – in our own words," said Burberry chief creative and chief executive officer. "The film we have made is a brief glimpse inspired by his full and extraordinary life, which threaded its way through the history of the twentieth century in all its tumultuous highs and lows. To do justice to this story, we turned to a team of truly great twenty- first century British talent: Asif Kapadia, a director whose work I admire enormously, and a cast of our brightest and our best actors: Domhnall Gleeson, Sienna Miller, Dominic West and Lily James. We feel very proud to be sharing The Tale of Thomas Burberry this Christmas – his spirit and his vision are still at the heart of everything we do at Burberry today."