By Sara on January 20, 2022
Lily and her "Pam & Tommy" co-star Sebastian Stan are featured on the cover of Variety's January issue to promote the show! The spread features a gorgeous new photoshoot of the two, and a very lengthy article/interview which you can read in full below the cut. Variety has also shared a behind the scenes video from the photoshoot, which you can watch under the article.
'Pam & Tommy' Stars Sebastian Stan, Lily James on Justice for Pamela Anderson, Internet Infamy and That Wild Talking Penis

Lily James and Sebastian Stan spent months working together on the set of Hulu's "Pam & Tommy." Yet when they recently reunited for a photo session it was a bit jarring to both actors.

"I barely met Sebastian out of Tommy Lee, and he barely met me out of my Pamela Anderson," James says. "It was really surreal to do even the Variety shoot. We were like, 'Oh, hey, so that's what you look like!'"

That's a testament to the amount of work James and Stan put into studying and emulating the real-life characteristics of Anderson and Lee — and just how well the production's hair, makeup and wardrobe crews perfected their physical transformation. The look is so spot-on that when Hulu released the first photos of the "Pam & Tommy" stars in May, it quickly went viral on social media. "I was blown away," Stan says. "The hair and makeup team deserve all the accolades that they can get."

Of course, there's a bit of irony to "Pam & Tommy" breaking the internet. In the series, which premieres Feb. 2, James and Stan play the "Baywatch" star and Mötley Crüe drummer as the couple meet, fall in love and then make a private recording that is ultimately stolen — becoming the first infamous viral video of a burgeoning online age.

The tape was shared and played at parties like it was contraband. Dubbed VHS copies spread across the world, as it was sold and traded on the then-brand-new World Wide Web. It later inspired a whole cottage industry of celebrity sex tapes, most of which were purposely leaked — unlike this one. Continue Reading
By Lora on February 23, 2019
Lily graces the cover of Madame Figaro China for this month issue and the photoshoot looks amazing! We've updated the gallery with a few high quality outtakes, enjoy!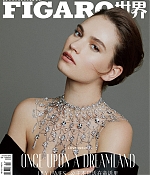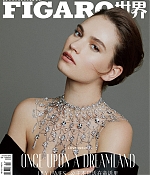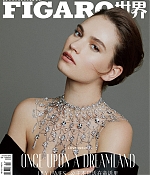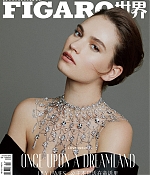 By Nicole on February 04, 2019
HARPER'S BAZAAR UK – Sparkling with lights that twinkle from its mirrored walls and bounce off its polished marble floors, Claridge's is always a magical place for a wintry rendezvous. And this grey, chilly lunchtime, the establishment has truly outdone itself; for there, tête-à-tête in a cosy corner of the restaurant, sit Lily James and Matt Smith, better known as Cinderella and Doctor Who, in close confabulation. No wonder the small children sitting at the next-door table have swivelled round on their seats to gaze in unabashed wonder.
And who could blame them? James is enchanting, adorable, a star who appeals across the genders and generations. From her breakthrough role as Lady Rose in Downton Abbey, to Disney's new Cinderella, followed by the beguiling Natasha Rostova in War & Peace, and then, last year, stepping into Meryl Streep's dancing shoes for the Mamma Mia! sequel, she has embodied a series of delightfully giddy heroines. More surprisingly, her innate sunny likeability has cast the same glow over other, less immediately appealing roles, including a diner waitress in the action film Baby Driver and Churchill's conscientious secretary in Darkest Hour. Her relationship of four years' standing with the equally beloved Matt Smith seems to be just another chapter in a fairy-tale career. 'I think charm is the most important ingredient in a human being… That is what Lily James has,' Downton Abbey's creator Julian Fellowes once told Bazaar.
However, these days James herself appears ambivalent about her rose-tinted image. It seems significant that, for the photo-shoot that precedes our meeting, she firmly rejects any gowns she finds too princessy. 'Cinderella was a gift, and I will treasure it for the rest of my life,' she explains, after her boyfriend has sloped off into the crowd, hat pulled down firmly over his eyes to preserve his anonymity. 'But I wore a dress for the Mamma Mia! premiere that was blue and white and quite pouffy, and when I got out on the red carpet, all anyone said was "Oh, it's Cinderella!" It's a happy association, but also something that you want to shed at some point…'
She has arrived for our lunch casually dressed in jeans, eco-trainers and a white shirt, her Burberry mac slung over one arm, but to me, she still looks like a romantic heroine, with her wide, brown eyes, porcelain skin and wavy golden locks. The latter have been dyed that colour for a new Burberry campaign, she says. 'I'm naturally a brunette, and I love it, but everyone else wants me to go blonde. Even my mum says, "I think I secretly prefer you as a blonde."'She laughs, ruefully. '
I'm actively seeking characters from now on that are different, who don't rely on charm or the qualities that I think I've explored quite a lot.' Perhaps it's not such a surprise (though it is a great shame) that she won't be reprising her part as Lady Rose in the eagerly anticipated Downton Abbey film. 'My character is in New York, and they couldn't bring everyone back,' she says diplomatically.
(Read the rest of the article at the source)
By Nicole on June 07, 2018
ENEWS – Lily James and Matt Smith are still going strong and may take a major step in their relationship.
The 29-year-old Cinderella and Downton Abbey actress and 35-year-old The Crown and Doctor Who actor started dating in 2014 and made their public debut as a couple the following year. In an interview with Marie Claire U.K., published in its July 2018 issue (on sale on Thursday), James talked about the possibility of her and Smith buying a home together.
"We want to get somewhere,'" she said. "That's going like, 'Can we go furniture shopping?' We bought a rug…and I love getting flowers and making things look nice."
James also told the magazine she hopes to spend time traveling for a few months and "just switch off."
Both she and Smith have kept busy with their acting careers in recent years. Last year, James spent time in Croatia filming Mamma Mia! Here We Go Again with returning stars Meryl Streep and Amanda Seyfried. More than a month ago, she began filming a new film directed by Danny Boyle in her and Smith's native England. A few months ago, Smith finished filming his role as the late Charles Manson in the biographical crime drama film Charlie Says in Los Angeles.
"When you're an actor, it's like, 'You've got to keep the momentum up.' And I'm like, 'No!'" James told Marie Claire U.K. "You have to trust that things won't go away if you stop for a bit. I haven't really stopped, and I don't think that's a feasible way to work. For me, eventually, that's not the lifestyle I want. You never really know where you are. That's not only with regards to my relationship with Matt, but with my friends and family. There's so much you miss. That's why I know I can't keep working at this intensity. I finish a job; Matt starts one." (source)
By Nicole on May 18, 2018
Lily is featured in the newest issue of L'Officiel NL (May-June 2018) with a brand new and beautiful photoshoot! Outtakes from it have been now added to the gallery, and we'll also try to find the issue to scan!
In the meantime be sure to check the photos in our gallery and a behind the scenes video below. Enjoy!
By Nicole on April 13, 2018
NET-A-PORTER – If Lily James could play any role from cinematic history, what would it be? "That's a tough question," says the actress, who you'll probably recognize as Rose in Downton Abbey and Disney's princess Cinderella. She wrinkles her nose in concentration. "I was watching The People vs. Larry Flynt last night," she offers finally, referring to the '90s biopic of the American porn baron, starring Woody Harrelson as Flynt and Courtney Love as his stripper girlfriend, Althea Leasure. "Courtney Love in that," she drops her voice to a whisper. "Oh, God, incredible. It would be good to go that far, to go into a space and be with a director and a group of people and just let everything go. That would be cool."
This is an interesting moment for James. After a deftly timed flirtation with darker, edgier subject matter in last year's Baby Driver, plus an eye-catching appearance as Churchill's secretary in Darkest Hour, the 29-year-old actress is raising her game with three female-led features that promise to position her as a British leading lady with international clout. First up is the long-awaited film adaptation of beloved historical novel The Guernsey Literary and Potato Peel Pie Society, directed by Mike Newell. Later this month there's Little Woods, an indie gem developed by its 28-year-old director Nia DaCosta in a Sundance incubator; and finally July's sun-drenched, all-singing, all-dancing sequel Mamma Mia!: Here We Go Again, in which James plays Donna (aka Meryl Streep's younger self).
It is the morning after the Oscars, and James and I are meeting at a north London cafe close to the actress's home. Ever-so-slightly disheveled, she could be any cute London girl – dressed in reworked vintage jeans ("From Austin"), a huge overcoat, Burberry plaid scarf and sloppy sweater sourced from a local boutique – if it weren't for the Julia Roberts-level mega-wattage of her beauty, which she only really switches on once we're ensconced at our table and sipping coffee. After months of Mamma Mia!-ing ("So intense, because I had to sing, I had to dance… and I felt kind of like I was going to screw it up"), she is recovering. "Seeing friends that I haven't seen in so long and just not feeling guilty about being able to drink wine every day. I can eat what I want and not go to the gym and just be really lazy." Ergo, she spent Oscars night in bed (asleep), waking to excited text messages from her actor beau Matt Smith (currently out in Los Angeles) about Gary Oldman's Darkest Hour win. Since then, she's mostly been watching Frances McDormand's acceptance speech: "So many times. Like on repeat! I met her at the BAFTAs and she is just a complete rock star. She's just so completely herself."
(Read the rest of the story at the source)
On The Record
With her all-singing, all-dancing role in Mamma Mia! Here We Go Again, Lily James is clearly well-versed in ABBA. But which other artists does she listen to when she's at home? Press play to watch her wax lyrical about her favorite musical memories in an exclusive behind-the-scenes video
By Nicole on April 08, 2018
THE TELEGRAPH – The day before we meet, Lily James went to a yoga class for the first time in many years.
'I was lying on my back and they were like, "Do a crab,"' says Lily. 'And I was like, "Sure…"' she mimes an awkward attempt at the pose, pushing her chest out, arms flailing hopelessly to the side. 'And I suddenly realised that I can't just… you know, I can't do a crab any more!'
She used to do yoga regularly, but the habit fell by the wayside. Well, I say, you've been otherwise occupied. She nods. 'I have.'
At 29, Lily already has the sort of CV many older actresses can only dream of. She landed her first role in the BBC adaptation of Just William straight after graduating from the Guildhall School of Music and Drama eight years ago. By 2015, Lily was playing the lead in Disney's live-action retelling of Cinderella.
The next year, she was Natasha in the BBC's critically acclaimed War and Peace. In 2017, she put on a faultless American accent to star as diner waitress Deborah in the Edgar Wright-directed Baby Driver, and took on the role of Winston Churchill's secretary in Darkest Hour, the film that won Gary Oldman a Best Actor Oscar.
And now her latest role sees Lily back in 1940s tailoring, playing Juliet Ashton, a writer emotionally scarred by the Second World War, in The Guernsey Literary and Potato Peel Pie Society. Adapted from the bestselling novel of the same title, it is directed by Mike Newell (of Four Weddings and a Funeral fame).
Lily's 20s, she says, have been 'mad. I've just been going and going and going.' Along the way, she's also had to contend with the endless interest in her relationship with the actor Matt Smith, 35, who she has been dating for four years, since they met on the set of Pride and Prejudice and Zombies. There were rumours of a romance for months, but Lily stuck firmly to the 'just good friends' line until they finally made it public with a red-carpet appearance at the Cinderella premiere in February 2015.
(Read the rest of the entry at the source)
By Nicole on March 06, 2018
HARPER'S BAZAAR UK – There is something about Lily James' enchanting beauty that makes her the perfect heroine of period drama – but it's her vivacious spirit, warmth and intelligence that bring these roles to life for a modern audience. She talks to Sophie Elmhirst about being inspired by her grandmother's life in occupied France in World War II, the importance of having more female directors in Hollywood, and the positive changes already underway.
There's a story that Lily James has heard her French grandmother tell over the years. In World War II, James' grandmother was a child, living in the French countryside. The Nazis took over the house during the occupation and the family were forced to flee to Paris in convoy with the French army. When they finally returned after the war, they found their home destroyed, the cellars flooded, a fur coat floating on the water. 'When I talk to her,' says James now, in amazement, 'I think of how their lives were completely turned upside-down, the horror of it all, and how she carried on and could be here sitting having a cup of tea with her granddaughter.'
There's something about that fur coat: how a detail can summon an image, an insignificant moment in an epic chronology of destruction that for some reason lingers. Lily James and I are sitting in a Highgate café talking about World War II because she is, once again, starring in a film from that time, The Guernsey Literary and Potato Peel Pie Society, adapted from the 2008 book of the same title, by Mary Ann Shaffer and Annie Barrows. (In fact she's in two, released in quick succession: the other is Darkest Hour, in which she stars as Winston Churchill's secretary.)
(Read the rest of the article at the source)