Lily is back with a new photoshoot and a new interview for Shape magazine (October issue)!
SHAPE — For the first time in years, Lily James isn't hitting the road for a film project or spending her nights making glamorous red-carpet appearances. There's a pandemic happening, and the actor, whom you likely know as the rebellious Lady Rose MacClare in Downton Abbey and the defiant heroine in Disney's Cinderella remake, is quietly quarantining at her London home. To her surprise, she's actually enjoying being still.
Lily, 31, has definitely earned the downtime. Since her graduation from drama school in 2010, she has been working nonstop, appearing in several hit TV shows and movies and racking up accolades from critics for her extraordinary depth and range on-screen.
Next up, Lily stars as Mrs. de Winter in Rebecca, the highly anticipated Netflix remake of Daphne du Maurier's classic gothic novel, which hits screens on October 21. The psychological thriller centers on the doomed relationship between Mrs. de Winter and her dashing husband, Maxim, played by costar Armie Hammer. To fully dive into the emotional intensity of their roles, she and Hammer studied the poem "Mad Girl's Love Song," by Sylvia Plath, which details a heartbroken woman on the brink of madness. "We read that poem so many times, and we found this twisted love story that came out of it. That helped us navigate our relationship in the film," she says. "Playing our roles became organic and took a life of its own."
Lily graces the cover and appears in AnOther Magazine S/S 2020 (on sale internationaly tomorrow!). If you want to read the (really interesting) interview, you cand find it below and if you want to enjoy the new photoshoot in high quality, you can head over to your gallery.
GALLERY LINKS
Studio Photoshoots > Outtakes & Sessions > 2020 >
Session 001
ANOTHER — Speaking to Sophie Bew, Lily James talks filming Ben Wheatley's remake of Rebecca, her dream roles and securing the rights to a book she's just read – which she plans to produce and star in Lily James is much more than an English rose. The actor, most famous for a litany of leading roles in period dramas, straddles generational appeal: she is as at ease as a teen pin-up as she is playing a beribboned, bonnet-clad aristocrat, a mobster's love interest or Cinderella. Her forthcoming turn as the second Mrs de Winter in Ben Wheatley's remake of Daphne du Maurier's gothic tale Rebecca promises more accolades – adding to those from directors including Danny Boyle and Edgar Wright. Having made bold and fresh acting choices spanning eras and genres, James is a talent intriguing an audience who wish to know more.

It is endearing how openly the actor Lily James bears her insecurities – with an assured self-acceptance nonetheless. "When I'm a bit nervous and don't know what to say, I go very jolly hockey sticks," she says. We're driving across London, from Walthamstow to her dinner date in Soho; she talks animatedly, waving her hands and darting off on tangents as we're jostled about on the back seat. "I sound like a boarding-school girl who's 15 years old and has midnight feasts. It's like a security blanket – I just become some sort of caricature. Sometimes I think, 'Lily, for God's sake, what's wrong with you?'"

I'm reminded of a scene from Daphne du Maurier's Rebecca, the romantic psycho-thriller famously translated for cinema in 1940 by Alfred Hitchcock. James stars in director Ben Wheatley's new adaptation of the novel that hits screens later this year and there's an uncanny resemblance between the actress at this point and her character, the second Mrs de Winter. In the book, the unnamed narrator rehearses a farewell with Maxim de Winter, her soon-to-be husband whom she fears she may never see again, after they fall in love in Monte Carlo.

"'Well,' my dreadful smile stretching across my face, 'thanks most awfully once again, it's been so ripping … ' using words I had never used before. Ripping: what did it mean? – God knows, I did not care; it was the sort of word that schoolgirls had for hockey, wildly inappropriate to those past weeks of misery and exultation."
Lily is featured in a new photoshoot for The Telegraph. You can read the full interview below!
GALLERY LINKS
Studio Photoshoots > Outtakes & Sessions > 2019 >
Session 005
THE TELEGRAPH – She's known for playing warm, fizzy characters, from Cinderella to Donna in Mamma Mia!, but are we about to see a different, deeper Lily James?

Lily James and I are on our knees in her dressing room in the basement of the Noël Coward Theatre, packing away her belongings. It is her last day playing duplicitous, ambitious Eve Harrington (opposite Gillian Anderson in the Bette Davis role as Margo Channing) in the celebrated, sell-out 14-week run of All About Eve directed by Ivo Van Hove. James has two shows remaining – a matinee and an evening performance – followed by a celebratory dinner at J Sheekey.

'And tomorrow I'm meant to be flying to Croatia to spend a week on a boat, sharing a cabin with [friend and fellow actor] Freddie Fox,' she explains as we stuff a holdall with teabags, biscuits, sunglasses and a framed picture of her actor grandmother, Helen Horton, who was the voice of 'Mother', the computer in Alien. 'She was so glamorous, like a woman from a 1950s movie, so I had her with me for the run,' says James. She can't decide whether or not to go to Croatia. She doesn't want to let her friends down, but life has been hectic and she yearns for a break.

After the trip she will go straight into two weeks of rehearsals and then filming for Rebecca. She will play Daphne du Maurier's enigmatic ingénue, the second Mrs de Winter, opposite Armie Hammer, in the film by British director Ben Wheatley, who also made Kill List and High-Rise. And in a couple of weeks there will be the premiere of her new film, Yesterday, a modern-day fable about fame written by Richard Curtis and directed by Danny Boyle.

The film depicts a parallel world in which the music of the Beatles has somehow been erased from the collective memory, except for one down-on-his-luck musician, Jack Malik, played by newcomer Himesh Patel, whose unique knowledge of the Beatles back catalogue enables him to become a singer-songwriter sensation, leapfrogging a bemused Ed Sheeran – playing himself for laughs – and leaving Suffolk for Los Angeles.
Lily graces the cover of Madame Figaro China for this month issue and the photoshoot looks amazing! We've updated the gallery with a few high quality outtakes, enjoy!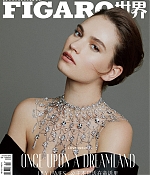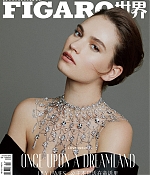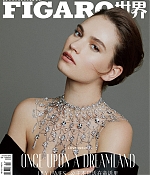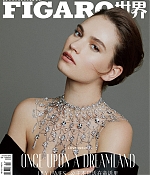 HARPER'S BAZAAR UK – Sparkling with lights that twinkle from its mirrored walls and bounce off its polished marble floors, Claridge's is always a magical place for a wintry rendezvous. And this grey, chilly lunchtime, the establishment has truly outdone itself; for there, tête-à-tête in a cosy corner of the restaurant, sit Lily James and Matt Smith, better known as Cinderella and Doctor Who, in close confabulation. No wonder the small children sitting at the next-door table have swivelled round on their seats to gaze in unabashed wonder.
And who could blame them? James is enchanting, adorable, a star who appeals across the genders and generations. From her breakthrough role as Lady Rose in Downton Abbey, to Disney's new Cinderella, followed by the beguiling Natasha Rostova in War & Peace, and then, last year, stepping into Meryl Streep's dancing shoes for the Mamma Mia! sequel, she has embodied a series of delightfully giddy heroines. More surprisingly, her innate sunny likeability has cast the same glow over other, less immediately appealing roles, including a diner waitress in the action film Baby Driver and Churchill's conscientious secretary in Darkest Hour. Her relationship of four years' standing with the equally beloved Matt Smith seems to be just another chapter in a fairy-tale career. 'I think charm is the most important ingredient in a human being… That is what Lily James has,' Downton Abbey's creator Julian Fellowes once told Bazaar.
However, these days James herself appears ambivalent about her rose-tinted image. It seems significant that, for the photo-shoot that precedes our meeting, she firmly rejects any gowns she finds too princessy. 'Cinderella was a gift, and I will treasure it for the rest of my life,' she explains, after her boyfriend has sloped off into the crowd, hat pulled down firmly over his eyes to preserve his anonymity. 'But I wore a dress for the Mamma Mia! premiere that was blue and white and quite pouffy, and when I got out on the red carpet, all anyone said was "Oh, it's Cinderella!" It's a happy association, but also something that you want to shed at some point…'
She has arrived for our lunch casually dressed in jeans, eco-trainers and a white shirt, her Burberry mac slung over one arm, but to me, she still looks like a romantic heroine, with her wide, brown eyes, porcelain skin and wavy golden locks. The latter have been dyed that colour for a new Burberry campaign, she says. 'I'm naturally a brunette, and I love it, but everyone else wants me to go blonde. Even my mum says, "I think I secretly prefer you as a blonde."'She laughs, ruefully. '
I'm actively seeking characters from now on that are different, who don't rely on charm or the qualities that I think I've explored quite a lot.' Perhaps it's not such a surprise (though it is a great shame) that she won't be reprising her part as Lady Rose in the eagerly anticipated Downton Abbey film. 'My character is in New York, and they couldn't bring everyone back,' she says diplomatically.
(Read the rest of the article at the source)
ALLURE – It's Wednesday at 3 p.m., and Lily James is handing me a shot of Patrón XO Cafe, a sticky coffee-infused tequila that goes down way easier than it should. "It's good, isn't it?" the actress asks after we toss them back. "I much prefer it to, like, tequila-tequila." She licks her lips. "I find that really drinkable."
We're at a pub in Finsbury Park, a neighborhood of North London that isn't known for being particularly posh, and since James has the luxury of an afternoon off, it feels appropriate to day-drink. It started with a few frames of bowling next door at Rowans Tenpin Bowl, then some pints, then talk of something called a "strawpedo," where you reportedly suck Smirnoff Ice out of a bottle as quickly as possible. Thankfully, this pub, a typical British working-class spot called the Twelve Pins, doesn't serve Smirnoff Ice. So instead, we're slamming back shots of tequila.
Here's what you're probably thinking: Isn't Lily James known as a good-girl actress? She's doing shots on a Wednesday afternoon in a dingy pub? Didn't she play Cinderella?
And yes, James is exceedingly nice and noticeably polite. The 29-year-old actress has cultivated a career playing kind protagonists in period pieces like Downton Abbey and the upcoming Netflix drama The Guernsey Literary and Potato Peel Pie Society, and she embodied one of the most iconic fairy-tale princesses in Disney's live-action adaptation of Cinderella. Her characters always overcome the odds, get the guy, and live happily and sweetly ever after. There's a reason no one writes anything negative about James — because how could you? But public perception, filtered through Instagram and TV and the press, isn't always a representation of the truth. The reality is that James is like any person, complicated and layered. One minute she's recounting her work as a patron of the North London branch of the Motor Neurone Disease Association, and the next she's telling a story about being recognized in a bathroom line at the Glastonbury Festival at 5 a.m. You can be a good person and still do shots in the afternoon.
When James first started working as an actress, after graduating from the Guildhall School of Music & Drama in London in 2010, she didn't feel quite as pigeonholed as she does now. Her work in theater was far edgier than the women she embodies these days onscreen, and ultimately it was being cast as Cinderella that tipped the scales toward always being seen as the good girl. She's ventured off course, particularly in last year's Baby Driver, but James always seems to come back (or be pulled back) to the amiable blonde heroine.
(Read the rest of the entry at the source)
ENEWS – Lily James and Matt Smith are still going strong and may take a major step in their relationship.
The 29-year-old Cinderella and Downton Abbey actress and 35-year-old The Crown and Doctor Who actor started dating in 2014 and made their public debut as a couple the following year. In an interview with Marie Claire U.K., published in its July 2018 issue (on sale on Thursday), James talked about the possibility of her and Smith buying a home together.
"We want to get somewhere,'" she said. "That's going like, 'Can we go furniture shopping?' We bought a rug…and I love getting flowers and making things look nice."
James also told the magazine she hopes to spend time traveling for a few months and "just switch off."
Both she and Smith have kept busy with their acting careers in recent years. Last year, James spent time in Croatia filming Mamma Mia! Here We Go Again with returning stars Meryl Streep and Amanda Seyfried. More than a month ago, she began filming a new film directed by Danny Boyle in her and Smith's native England. A few months ago, Smith finished filming his role as the late Charles Manson in the biographical crime drama film Charlie Says in Los Angeles.
"When you're an actor, it's like, 'You've got to keep the momentum up.' And I'm like, 'No!'" James told Marie Claire U.K. "You have to trust that things won't go away if you stop for a bit. I haven't really stopped, and I don't think that's a feasible way to work. For me, eventually, that's not the lifestyle I want. You never really know where you are. That's not only with regards to my relationship with Matt, but with my friends and family. There's so much you miss. That's why I know I can't keep working at this intensity. I finish a job; Matt starts one." (source)
A brand new spot and promotional photos for Lily's My Burberry campaign are out. The promo is now for all the My Burberry Fragrances (Black and Blush) and Lily looks gorgeous in it.
In our gallery you can find the photos and below you can watch the AD video. Enjoy!