Lily's upcoming show Pam & Tommy will be available to stream on Hulu (in the US) and Disney+ (internationally) from February 2nd next month, and I've now updated our gallery with more than 500 HQ photos from the show! The new photos are from the set, episode stills, posters and more. You can also watch the trailer here if you haven't seen it yet – Lily looks incredible as Pamela!
Follows the story of Pamela Anderson and Tommy Lee's relationship, going back to their whirlwind romance that started with them marrying after only knowing each other for 96 hours in 1995.
TRIBECA FILM – Our feature film lineup for the 17th annual Tribeca Film Festival champions the discovery of emerging voices and the celebration of new work from established filmmaking talent. This year, we're closing the festival with the world premiere of The Fourth Estate, from Oscar®-nominated director Liz Garbus, which follows the New York Times' coverage of the Trump administration's first year. Our centerpiece gala is the world premiere of Drake Doremus' sci-fi romance Zoe, starring Ewan McGregor, Léa Seydoux, Rashida Jones, and Theo James. The 2018 Tribeca Film Festival takes place April 18th to the 29th.
The 2018 feature film program includes 96 films from 103 filmmakers. Of the 96 films, 46% of them are directed by women, the highest percentage in our festival's history. The lineup includes 74 world premieres, 6 international premieres, 9 North American premieres, 3 U.S. premieres, and 4 New York premieres from 27 countries. This year's program includes 46 first time filmmakers, with 18 directors returning to the festival with their latest feature film projects. Tribeca's 2018 slate was programmed from more than 8,789 total submissions.
[
…
]
LITTLE WOODS, directed and written by Nia DaCosta. Produced by Rachael Fung, Gabrielle Nadig. (USA) – World Premiere. In this dramatic thriller set in the fracking boomtown of Little Woods, North Dakota, two estranged sisters are driven to extremes when their mother dies, leaving them with one week to pay back her mortgage. With Tessa Thompson, Lily James, Luke Kirby, James Badge Dale, Lance Reddick.
Lily's new movie Darkest Hour has been nominated in 5 categories:
• Best Picture
• Actor in a Leading Role (Gary Oldman)
• Makeup and Hairstyling (Kazuhiro Tsuji, David Malinowski and Lucy Sibbick)
• Costume Design (Jacqueline Durran)
• Cinematography (Bruno Delbonnel)
• Production Design (Sarah Greenwood and Katie Spencer)
We're wishing all the cast and crew the best of luck! The ceremony will take place on March 4th. Will see if Lily will attend! In the meantine, we've added in the gallery some production stills from the movie to celebrate the nominations! I've already seen and I loved it. It deserve all the awards and I do really hope it will won at least one! Also, Lily is really good in it. Enjoy!
A couple of new production stills for episode 5 of War and Peace have been released and added to the gallery, enjoy!
GALLERY LINKS
Television Productions > War and Peace (2016) > Season 1 > Episode Stills >
Episode #1.5
New production stills for Pride and Prejudice and Zombies have just been added to the gallery, and others have been replaced with HQ versions. Be sure to check them!
GALLERY LINKS
Film Productions > Pride and Prejudice and Zombies (2016) >
Production Stills
Several HQ production stills from next week's episode of War and Peace have now been added to the gallery, thanks to Far Far Away. Screencaps from Sunday's episode will be added soon, stay tuned!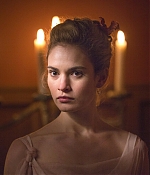 GALLERY LINKS
Television Productions > War and Peace (2016) > Season 1 > Episode Stills >
Episode #1.4
A new production still for Pride and Prejudice and Zombies has been released and added to the gallery! (Thanks to HeyYouGuys)
HQ production stills from the third episode of War and Peace have now been added to the gallery, thanks to Far Far Away! Enjoy :)
GALLERY LINKS
Television Productions > War and Peace (2016) > Season 1 > Episode Stills >
Episode #1.3